Image credit: DodgertonSkillhause | morguefile
---
For those of you who are still unaware, I'm Canadian. If this comes as a shock to you … well, you probably haven't been reading my blog, because if you had, you'd have noticed that I use the letter U with reckless abandon, plus I talk about living in Canada a lot. If you have been reading but you still didn't know … well, I'm sorry (see? Canadian!) but you really should pay more attention.
Anyway, this means I'll be sharing a country with any of you who make good on your threats to move here if Trump wins the election — so, welcome!*
I'm very sorry to have to break this to you, but it's recently come to my attention that we have a Donald Trump here in Canada too.
Let's talk about my baby for a second.
My baby is exactly like Donald Trump. Seriously, she's pretty much a dead ringer for the guy. Let me count the ways:
She loves herself, like, a lot.

Image source: Giphy

Image source: this is my actual baby. JUST KIDDING IT'S FROM GIPHY AGAIN! Gotcha.

She never met a mirror she didn't like.

She makes this face fairly often:

Image source: Giphy

I think she likes the feeling of her breath against her top lip.

She believes her abilities extend far beyond what she's actually qualified to do.
So move to Canada if you will, but you've been warned.
Now that I've officially burst your bubble, I'll leave you with this small silver lining: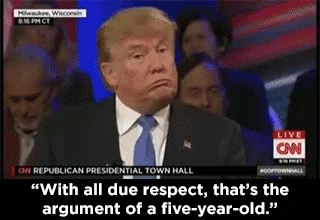 She's very advanced.
---
*Reality check: in my real, non-internetty life, I actually have some expertise in the field of immigration, so I feel compelled to inform you it actually isn't that easy to just move to Canada — sorry! (see? Canaaaadian!)